Mounting hardware is included with all chandeliers. The standard is a brushed nickel canopy with stainless steel cables (12" hanging height unless otherwise specified). Options include different colors of canopies, chain instead of cable (for chandeliers under 120 pieces), and custom fabricated canopies and down rods. Flush mounting against the ceiling is also and option.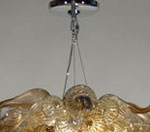 Cable Mount
Cable mounting is the most popular hanging option. Three stainless steel cables are used with a brushed nickel canopy cover. Minimum hanging distance, ceiling to top of glass is 6". Other colors of canopies that are available are: white, black, brass (antique or bright), chrome.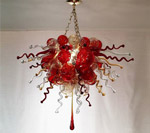 Chain Mount
Occasionally someone will prefer the standard decorative chain (available in black, white, brass, pewter, or chrome). The standard chain will not hold larger chandeliers, maximum weight limit around 40 pounds, 100-120 glass pieces.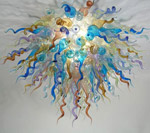 Flush Mount
Flush mounting is an alternative to the traditional hanging cable or chain. The metal armature the glass hangs from mounts directly to the ceiling. Flush mounted chandeliers are more difficult to install since the glass making up the chandelier will go right up against the ceiling. Flush mounting means some of the glass must be removed to get to the light bulbs for changing. Use long life bulbs and/or a dimmer switch to get the longest life out of the bulb. LED bulbs make flush mounting more practical.
Bob Patrick Canopies
We work with a local but nationally recognized blacksmith, Bob Patrick. From our sketches he has added his own vision to a variety of exquisite metal canopies with twisted hanging rods that mirror the swirling glass pattern.