Welcome to Red Fern Glass
Red Fern Glass is the small hot glass sculpture studio of Ed Pennebaker. Ed makes Art Glass Chandeliers and Mixed Media Sculpture using traditional glass making techniques. Ed also works with other types of glass making and other materials including hot glass casting, kilnforming, metal fabrication, and bronze casting.
All the glass is made by Ed in his Arkansas woodlands studio. Ed believes in working incessantly, cultivating concepts, discrimination and technique.
News
2016
The William F. Laman Library, 2801 Orange Street, North Little Rock, Arkansas will host an exhibit of work by Ed and his wife Carol Corning September 12 - November 4. An opening reception will take place September 16, 6-8pm.
Ed will participate in the Omni Peace Garden Tour in Fayetteville, AR May 28th. The Sun Discs will be featured in an exhibit in the gardens at the Dwain Cromwell residence. Omini's Peace Gardens Tour.
Red Fern Glass will have work at the American Made Show in Washington, DC Jan. 15-17, 2016, Walter E. Washington Convention Center. The American Made Show is the nation's premier wholesale market for designer products handcrafted by studio artists from the United States and Canada.
2015
Ed Pennebaker will be the featured artist for the Third Fridays Artwalk at the Argenta Gallery in the Argenta District of North Little Rock, 413 Main St., Nov. 20, 5-8pm.
The sculpture "Extraction Process" has been accepted for the juried exhibition "Seven-State Biennial Exhibition" in Oklahoma. It will be at The Nesbitt Gallery, University of Science and Arts in Chickasha, Oklahoma September 26 through November 4. Then the exhibit will be at the Charles B. Goddard Center in Ardmore, Oklahoma November 9-25. The exhibit will have a third location, the Museum of the Red River in Idabel, Oklahoma December 8-January 31.
Open Studio Sale, Oct. 15-18, 9am-6pm. To see some of what is available visit online shopping. The studio is about 50 miles east of Fayetteville, 25 miles west of Harrison off Hwy 412. Detailed studio directions are here. Following Google maps won't necessarily get you there, online maps aren't always accurate.
The sculpture "Sun Will Set" was accepted to the 2015 Irene Rosenzweig Biennial Juried Exhibition at the Arts and Science Center for Southeast Arkansas in Pine Bluff. Opening Reception is September 17, 5-7pm. The exhibition dates are September 17 through Novemeber 21, 2015, hours 10-5 Tuesday - Friday, 1 - 4, Saturday.
Ed will exhibit new sculptures in the Main Gallery at Fayetteville Underground during September.
The Center for Art Education in Van Buren, Arkansas will have a fundraiser on May 9 which Ed will participate in, CAE's 5 X 5 Gala.
Ed will have an exhibit of sculptures in North Little Rock, April 17-May 6 at the Argenta Gallery.
Join Ed at the Sculpture at the River Market show in Little Rock, Arkansas April 24-26.
An online shopping cart has been added to sell some of Ed's vintage Red Fern Glass that was made from 1985-1999.
A sale of current work will take place during 2015 to celebrate 30 years of Red Fern Glass. You can request information. You can also sign up for the occasional newsletter or watch this page or Facebook for updates.
2014
Some of the 2014 News got deleted during a website update so here is what we remember that should be here:
KY3 news filmed at the studio and made a short newscast about Red Fern Glass. Celebrate the Ozarks: Glass sculptor's skill is transparently beautiful.
Ed had a show of his sculptures at the Historic Arkansas Museum September 12 through November 9.
Ed was one of the featured artists at Fayetteville Underground in August
The Sporadic and Only Occasional Glass Blowout was the second weekend of May in 2014.
In April Ed participated in the show in Little Rock, Arkansas 'Sculpture at the River Market'
Ed is scheduled to give a talk about his art at one of the Friends of Contemporary Craft meetings at the Arkansas Art Center. Join him on March 9 for the event in Little Rock, Arkansas. More information will be posted at the Arkansas Arts Center website.
2013
In recognition of his artistic achievements Ed has been awarded a 2013 Individual Artist Fellowship by the Department of Arkansas Heritage and Arkansas Arts Council. The award will be presented during a reception at the Arkansas Arts Center in Little Rock, Arkansas, October 6, 5:30-7:30pm.
Just Married. Ed was married to Carol Corning July 24, 2013 near Park City, Utah
June 3-6 - An 'Adventures in Glassblowing' class is scheduled through the Arkansas Craft School.
June 1, 2013 Sporadic and Only Occasional Glass Blowout.
May 4, 6-9pm, Ed will be the featured artist at Zarks in Eureka Springs. See new work during the May Festival of the Arts.
April 27, 10am-6pm. Ed will be in North Little Rock for the Thea Festival with new sculptures.
The Arkansas Democrat Gazette published an article about me on Feb. 10. Here ia a link to the video they made. The article itself is behind a pay wall. Ed Pennebaker hot glass video.
Old News from 2012
October 19, 20, 21 are the dates for the Sculpture at the River Market show in Little Rock, Arkansas. I will have a few new sculptures showing there.
Sept. 6 is the grand opening of the new location of the Fayetteville Underground cooperative gallery and studios. Join us 5-8pm to meet the artists and see the new venue at 101 West Mountain Street, Fayetteville, Arkansas.
August 2 will be the sneak preview at the NEW Fayetteville Underground in Fayetteville, AR. I will have a new chandelier there along with some sculptures. Visit the Facebook page for the event.
April 28 was the THEA Arts Festival in North Little Rock sponsored by the Thea Foundation. My sculpture "Osage Boogie Woogie (homage to Mondrian & Diebenkorn)" won "Best of Show".
People are starting to ask about this year's Blowout. Because of time constraints I won't be hosting the "Sporadic and only Occasional" Blowout this spring. If I have time maybe I'll schedule one in the fall.
Chandelier #570 installation March 17 in Muscatine, Iowa.
A new sculpture "Invasive Species: Tangled" was installed at Stout Executive Search, Springdale, Arkansas on March 2.
The sculpture "Phototropism" was accepted to the 54th Annual Delta Exhibition, Arkansas Arts Center Jan. 27-March 28.
Two Hot Glass Classes for 2012
Hot Glass, June 5-8 at Red Fern Glass. Arkansas Craft School for enrollment.

Hot Glass Class is scheduled for June 11-15 through the The Eureka Springs School of the Arts at Red Fern Glass Studio.
Old News from 2011
Two sculptures were accepted for a show at sUgAR gallery in Bentonville, AR November 4 - December 10, 2011. "Finer Things: A Juried Contemporary Craft Exhibit" juried by Leo Mazow, PhD., Associate Professor of Art History at the University of Arkansas an former curator of American art at the Palmer Museum of Art at The Pennsylvania State University.
Ed will have a booth at the "Sculpture at the River Market" show in Little Rock, AR Oct. 14-16.The sculpture "Frost" was awarded an "Award of Excellence" at the show.
Two new sculptures have been accepted to the Seven State Biennial Exhibition which will be shown in two venues, USAO Gallery Chickasa, OK, Oct. 1-Nov. 7 and Charles B. Goddard Center, Nov. 15-Dec. 17, Ardmore, OK. The sculptures chosen were Air, Earth, Fire and Ripples. Update: "Ripples" was chosen for a Honorable Mention Award. "Air, Earth, Fire" was chosen for a Purchase Award and will be in the Permanent Collection at USAO.
Take a look at a nice article by Joanne Bratton with photos by Kevin Pieper in Living Well magazine published by the Baxter Bulletin in Mountain Home, Arkansas
Visit Ed at his booth at the Sculpture at the River Market Show and Sale, October 14-16, 2011, Little Rock, Arkansas.
Ed will be the featured artist at E Street Gallery for August 2011. Come to the First Thursday Artwalk August 4 to see new sculptures at the opening of the show "Concatenations, Connections".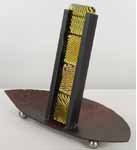 Seismic Movement
12in ht x 15.5in w x 6.5in d
glass, steel
See new sculptures at the "Group Show", Leopold Gallery, Kansas City, MO June 2011.
Mark your calendar. June 4 is the date for the "Sporatic and Only Occasional Glass Blowout". This year celebrate 20 years in the woods and 26 years of Red Fern Glass.
@urban magazine in Ft. Smith, Arkansas published a nice article about me and used my work on the cover of the magazine. Read Magical Glass.
Classes scheduled for 2011
Beginning Glassblowing June 6-10, 2011 through The Eureka Springs School of the Arts at Red Fern Glass Studio.
Optic Mold and Intermediate Glass September 22-25, 2011 through Arkansas Craft School at Red Fern Glass Studio.
Old News from 2010
The sculpture "Dancing Water" was accepted to the "MOAK 4-State Regional Exhibition 2010", Springfield Art Museum, Springfield, MO Nov.2010 -Jan. 2011.
Ed will have a booth at the "Sculpture at the River Market" show in Little Rock, AR Oct. 15-17.
The sculpture "Summer Blossom" was chosen to be included in the collection at the new Cancer Institute building on the campus of UAMS in Little Rock, AR
Ed was featured on Fayetteville Flyer Profiles on May 12th.
The sculpture Dancing Water-Elixir of Immortality was accepted to the 52nd Annual Delta Exhibition at the Arkansas Art Center, Little Rock, Arkansas January 29-March 14, 2010.